Aaron Wright ::
Industrial Designer, Experience Researcher,
Architectural Designer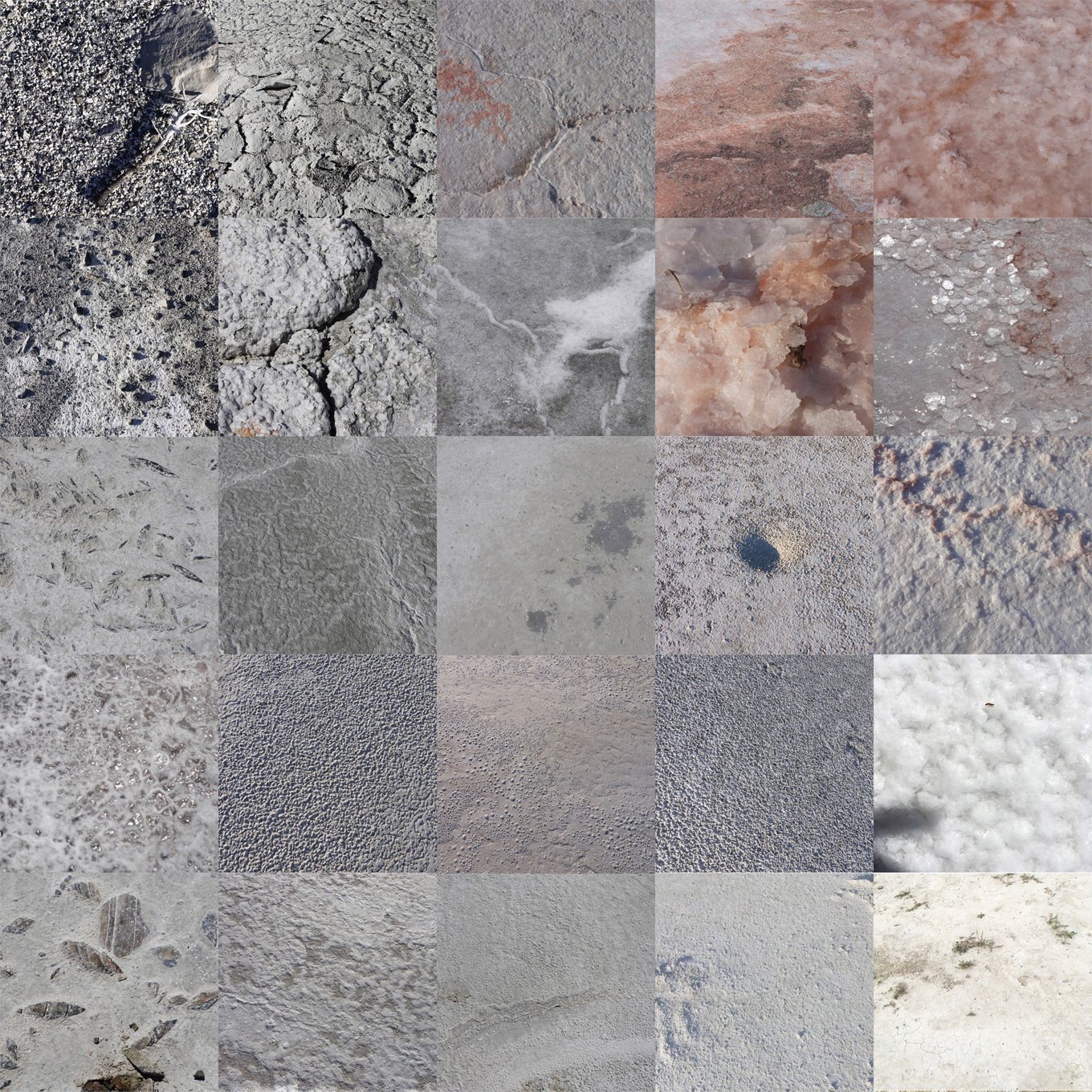 Sub Sequence
Building a
Participatory
Infrastructure
Master's Thesis Work
Tags: BioSensing, Environmental Sensing, IoT, Data Personalization, Wearables, User Experience Research
Toolkits: Adobe Creative Cloud, Arduino IDE, physical computing, machine learning, bioplastics, UI/UX research, Microsoft Xbox Kinect v2, TouchDesigner
,
Python, Node.js, p5.js, ArcGIS, machine knitting, custom phase-change dye, cartography
What might it look like to make the nebulous quality of air pollution visible?

There is a lack of infrastructure that has been constructed in response to the contaminants produced from the Port of Providence in Rhode Island. Air quality surrounding the Port is impacted by air pollution from legacy industrial sites –diesel trucks, marine vessels, oil and gas storage and distribution, asphalt and cement processing, metals recycling, natural gas and utility services, and large heating plants.
The thesis sets out to investigate, question, and iterate upon the possibilities of collective environmental action and accessible information through an individual's sensing practice. The work aims to redefine the sensing practice in daily routine and map the contamination zones of their community. Simultaneously, the thesis is testing how making these ecosystems legible to the observer may result in a shift in one's perception about one's environment, generate participatory infrastructures, and, ultimately, cultivate a deeper connection to one's community.
Where to Engage?
What's environmental condistions are currently being monitored, how, where, and when?
There are five air-qaulity data collection sites across the state of Rhode Island (scalar principle, left). There are not any community organizations that are working with the DEM to monitor air, water, or soil quality. What if there were? (vector, right).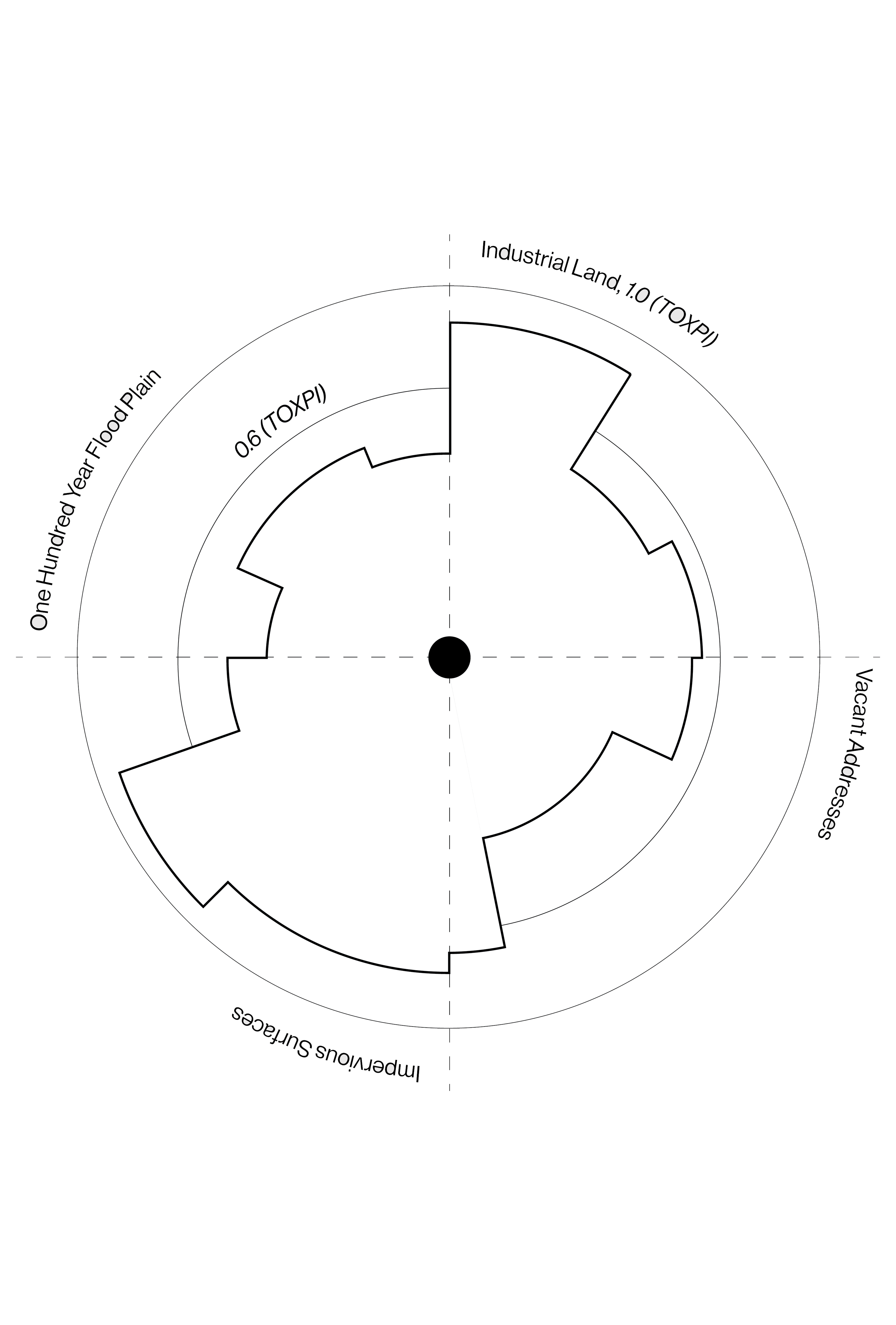 Environments that hold an opportunity in expanding collective inquiry to provoke action + adverse health affects corresponding to those environments (above).
Human existence happens in proximity, at multiple scales - in multiple
relationships; existence is as intimate as our relationship with our individual bodies, the connection we have with one another, or the voice we have as a collective community.
Bracketing these relationships are external forces. Some are more turbulent than others - impacting our existences, affecting the multiple bodies.
Forces merge, permeate, create overlaps, dictate desire, create shadows, spaces
in-between
- the
misfit conditions
.
How might we create fully integrated methods of knowing :: resulting in illumination of these
misfit conditions
- shifting perception to cultivate a deeper connection to those affected by external forces?
Shifts that happen in the overlaps, our spaces
in-between
, the
misfit conditions
.
---
ACTION SETTINGS
Providing a variety of actionable information related to an individual's sensing practice will reduce disengagement due to feelings of powerlessness.

---
Who's Engaged?

THE ARCHETYPES:
The Dabbler; A concerned party - wanting to participate in collecting air-quality data, but not knowing how. The Steady; An active citizen scientist with the means and knowledge of how to participate in collecting air-quality data. The Passive Participant; Someone who recognizes the
nebulous quality of air pollution, but is disinterested in becoming a contributor.
As a part of the research, I have been concentrating on decoupling and redefining terms, one being citizen. This is a loaded term that has an affiliation with place, governance, policy.
A citizen science is traditionally defined as the collection and analysis of data relating to the natural world by members of the general public, typically as part of a collaborative project with professional scientists.
In the vertical of decision making as it pertains to data collection and decision making, I am purposefully not involving influences of groups such as policymakers, local governments + municipalities, or current citizen scientists. I am focusing on the archetype defined as the dabbler, or one of their current environment; interested in contributing to a collective body of environmental information, but confused on how. Inherently, starting at the general level of the dabbler, influencing this archetype will create a ripple effect through groups higher in the vertical.
---
Through research I have identified five key phases in an archetype's journey when identifying air pollution, and the consequent action that follow. Above, there are two archetype journeys. These have been developed through user interviews and experience testing to further the definition of someone who might be considered the dabbler, and someone who is a disinterested participant.
Firstly, the
inciting incident
of air-pollution (identifying the source), the haptic feedback of the incident:
notice and show
(smells, visuals, feels), utilizing a tool to gather clarity about nebulous pollution: sense and gather, have the knowledge-base to understand that information to a larger knowledge base for people to use.
Regarding the archetype journeys, the objective of the thesis is to design experiences that operate inbetween the five key phases to reassure a participant and follow the journey's trajectory.
---
"Pollution is nebulous. Hard to define, hard to pin down. Currently, benzene, black carbon, 1,3 butadiene, and ammonia are not being actively monitored by the Rhode Island Department of Environmental Management, and have no federal air quality standard. Meaning, no limit on emissions, or consequences for emitters." Sean Wihera; Clarity.io

Dye Tests: Applied phase – changing pigment, suspended in an earlier version of the silicon mixture. Applied on 100% cotton knit.

Each garment has been applied with a varied amount of phase – changing pigment, so overtime the user will be able to identify the contaminates they have come into contact with, observing them as traces.
THE RESEARCH PROCESS
---
THE DATA PIPELINE
Providing a variety of actionable information related to an individual's sensing practice, will reduce disengagement due to feelings of powerlessness.
Why Engage?
Human's Aren't Computers
Developing Data Stories |
With the intention of creating Ambassadors,
The Dabbler
What's the Reasoning?
Scalar Shifts |
On Information Sharing
How to Engage?
Making the Invisible, Visible |
Collection

Daily Routes |
Experiments in Dissemination of Information | Collection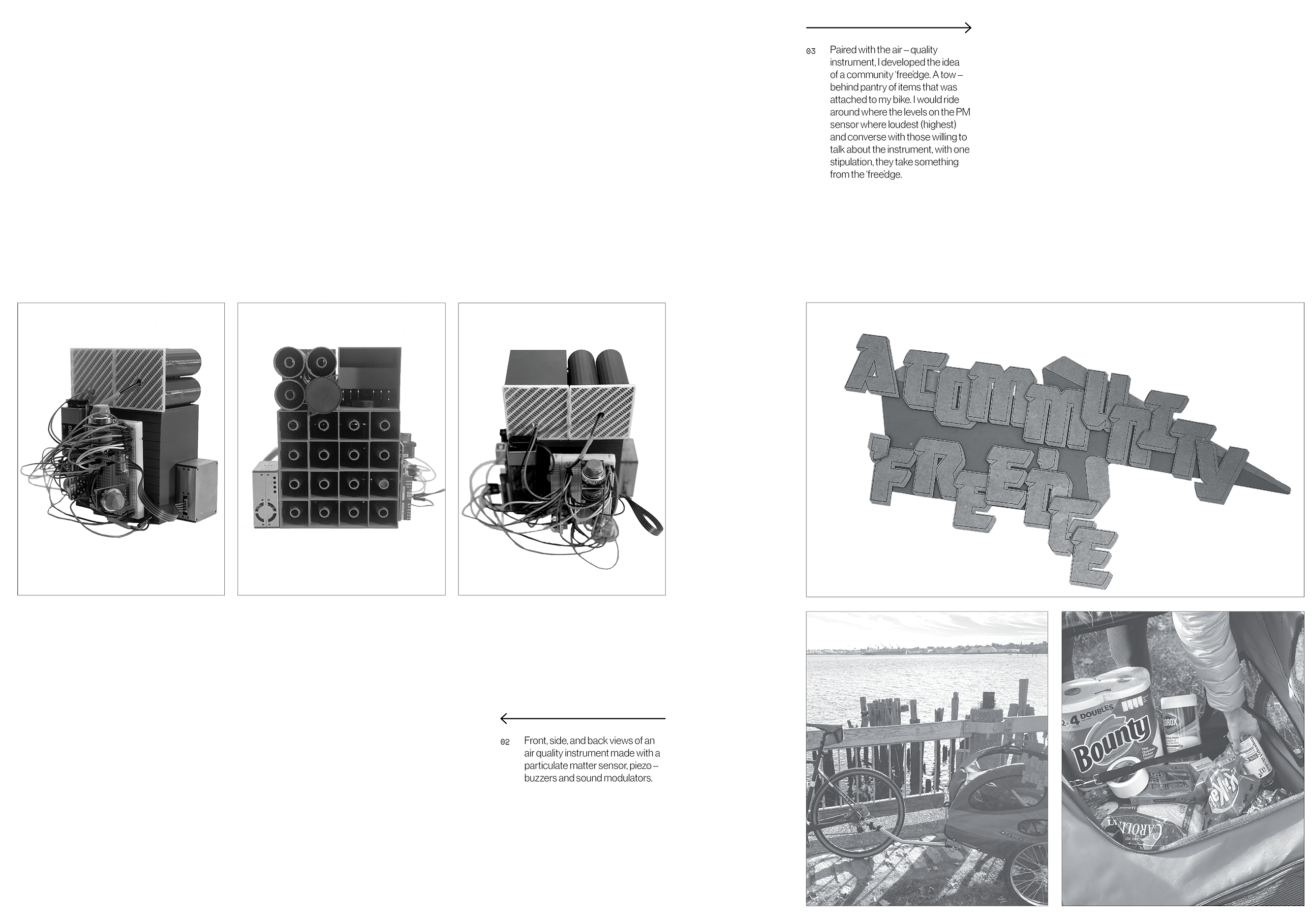 ---

Conclusion from Experimentation on Adapters of Interactivity:
The circuits have resulted in participants describing frustrations of where the input information is coming from, finding it hard to decipher ambiguous environmental information, what levers are being manipulated to form an output of new information, or a new experience (the 'black box model' concept).
The thesis seeks to bring the source of this information into further clarity, develop new models of communication, and resolve the 'black box' interpretation while interacting with information.


---
A Reluctant Prototype |
The Discreet Human |
Labeling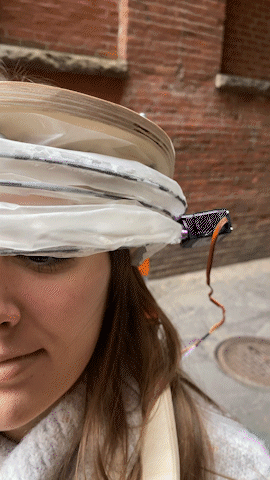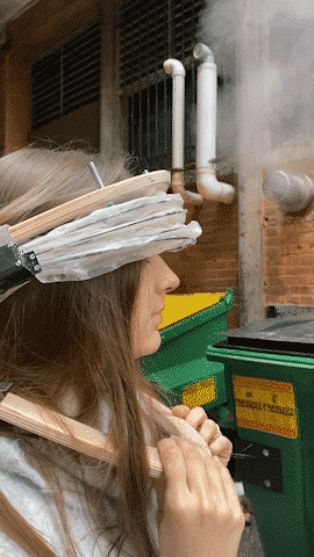 ---
Machine Learning Trust Fall |
Training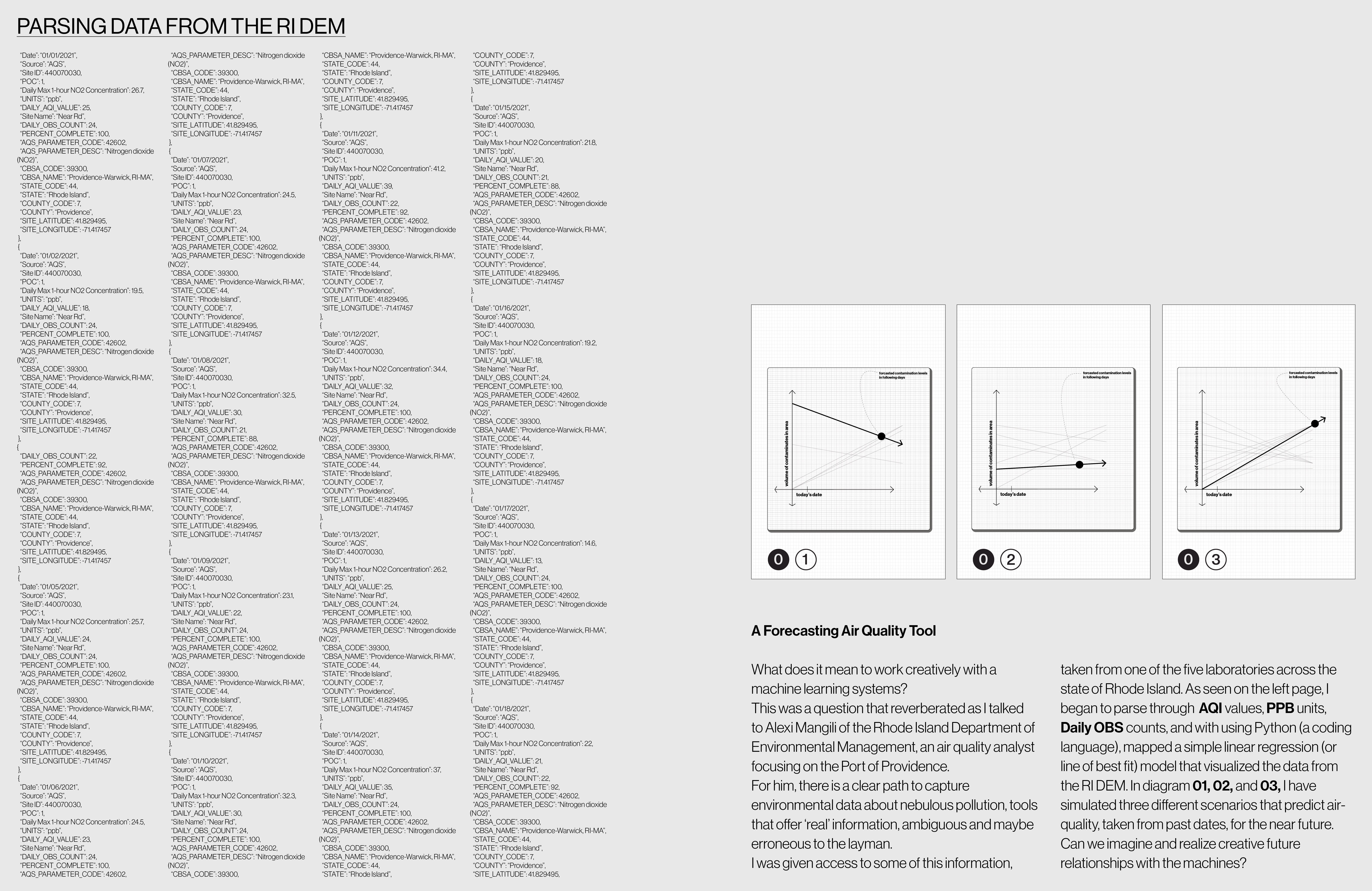 ---
---


Risk Mitigation |
Vegetating the Citizen |
Labeling, Training
Want to know more about this project? click
here
A MULTI-PRONGED APPROACH
An On-Boarding Experience for the Dabbler
A sales funnel approach showing that through the recognition of pollution in an immediate environment provides an opportunity to become a primary sharer of information.
ORDERS OF ACQUISTION
---
A vapor chamber to carryout controlled ammonia tests.
In a way, this was to falsify inputs and generate a consistent color output, and to better understand the spectrum of colors that are achieved from the phase changing pigment. Preparation of dye solution: 5,10,15,20-Tetraphenyl-21H,23H- porphine manganese(III) chloride pigment (MnTPP); Colorimetric Gas-sensing Pigment
01:
A fish – tank air pump (deconstructed)
02:
A humidifier (deconstructed)
03:
A sealed container for material tests (constructed)
Constructing a vapor chamber out of found parts to explore phase – changing dyes that react to ammonia in a gaseous state. Colorimetric Gas – sensing Pigment suspended in a silicon mixture to apply on materials such as paper, synthetic textiles, for use in screen-printing.
Tear-away Flyers:
Identifying the willingness of self – selectors to participate in hanging tags, posted around Providence, RI. Over 130 tags have been posted. The process: I have applied phase – changing pigment, suspended in silicon onto each tag. The QR code takes a user to a form where they can answer a question about the area they've hung a tag and post a picture.
---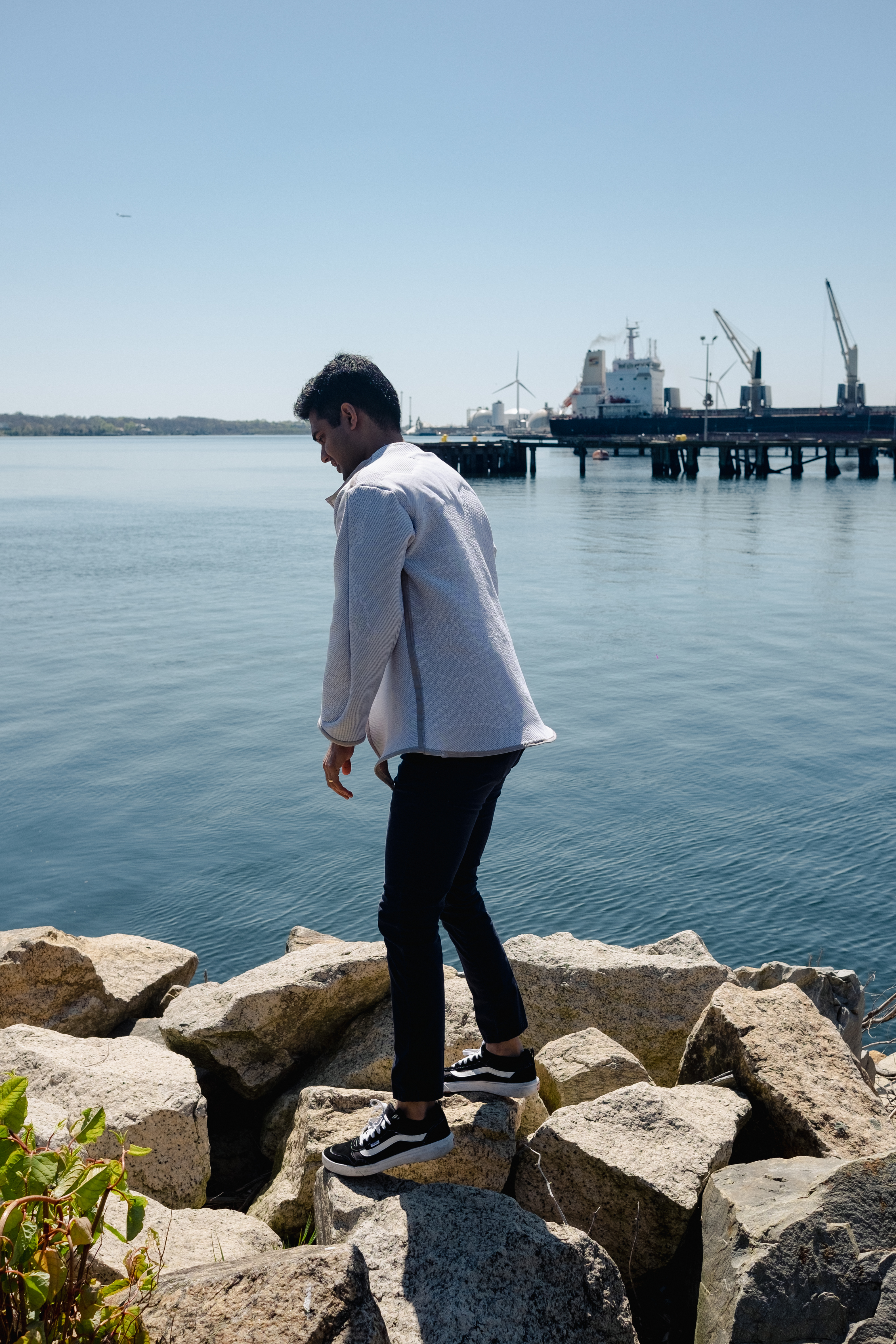 ---